Mipymes, el sueño posible de pocos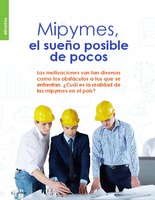 Date
2017
Author
Oficina de Comunicación y Mercadeo
Educational Resource
Abstract
Micro, pequeñas y medianas empresas clasificadas como industriales, comerciales y de servicio constituyen un porcentaje importante de la economía costarricense, causando pequeños aumentos significativos. Gracias al emprendedurismo nacional logran innovación dentro del mercado además forma una fuente de empleos y un aumento del producto interno bruto del país.
Micro, small and medium enterprises classified as industrial, commercial and service constitute an important percentage of the Costa Rican economy, causing small significant increases. Thanks to the national entrepreneurship, they achieve innovation within the market and also create a source of jobs and increase the country's gross domestic product.
Source
Pensis. VII Edición (abril/junio, 2017)
Resource type
Narrative text
Intended users
General public
Educational level
Level::University
Keyword
Economía, Éxito empresarial, Empresas, Industrias, Comercio, Servicios.
Structure
Atomic
This structure corresponds to individual objects. For example, images, charts and figures.
Aggregation Level
1
The lowest level of aggregation. For example, multimedia or fragments.
Interactivity Type
Expositive
Cognitive Process
Contextualize, Describe, Explain, Summarize.
Show more info
The following license files are associated with this item: