El gran motor económico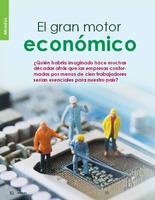 Date
2017
Author
Oficina de Comunicación y Mercadeo
Educational Resource
Abstract
La importancia de las micros, pequeñas y medianas empresas en la economía nacional, generando empleos, exportaciones y agrupaciones del parque industrial. Por lo tanto, el presente artículo detalla más a fondo las características de esas empresas e impulsos a la productividad.
The importance of micro, small and medium enterprises in the national economy, generating jobs, exports and clusters of the industrial park. Therefore, the present article details more in depth the characteristics of these companies and impulses to the productivity.
Source
Pensis. VII Edición (abril/junio, 2017)
Resource type
Narrative text
Intended users
General public
Educational level
Level::University
Keyword
Productividad, Empresas, Economía, Empleo, Rentabilidad, Pequeña y mediana empresa, Éxito empresarial.
Structure
Atomic
This structure corresponds to individual objects. For example, images, charts and figures.
Aggregation Level
1
The lowest level of aggregation. For example, multimedia or fragments.
Interactivity Type
Expositive
Cognitive Process
Describe, Explain.
Show more info
The following license files are associated with this item: