Marcando el paso de nuestra economía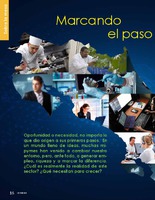 Date
2017
Author
Oficina de Comunicación y Mercadeo
Educational Resource
Abstract
Las pequeñas y medianas empresas tiene un porcentaje de importancia marcada en la economía nacional, sin embargo, se enfrentan grandes retos para poder mantenerse en el mercado. El presente documento detallará elementos como empresas que operan de manera formal, además, de la realidad que afrontan esta clase de emprendimientos.
Small and medium-sized companies have a marked percentage of importance in the national economy, however, they face great challenges to be able to stay in the market. This document will detail elements such as companies that operate in a formal way, in addition, the reality that faces this kind of endeavors.
Source
Pensis. VII Edición (abril/junio, 2017)
Resource type
Narrative text
Intended users
General public
Educational level
Level::University
Keyword
Empleos, Oportunidades, Empresas, Economía, Pequeña y mediana empresa.
Structure
Atomic
This structure corresponds to individual objects. For example, images, charts and figures.
Aggregation Level
1
The lowest level of aggregation. For example, multimedia or fragments.
Interactivity Type
Expositive
Cognitive Process
Describe, Explain.
Show more info
The following license files are associated with this item: