Emprender, competir, triunfar…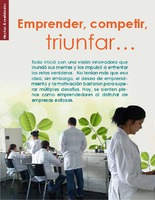 Date
2017
Author
Oficina de Comunicación y Mercadeo
Educational Resource
Abstract
El deseo de emprendimiento y la motivación es una de las claves para lograr formar empresas exitosas y enfrentar todas las amenazas que aparecen durante el camino. El artículo menciona dos micro, pequeñas y medianas empresas incursionando en el mercado nacional, quienes nacieron en CIE-TEC del Tecnológico de Costa Rica.
The desire for entrepreneurship and motivation is one of the keys to building successful businesses and facing all the threats that appear along the way. The article mentions two micro, small and medium enterprises venturing into the national market, which were born in CIE-TEC from Tecnológico de Costa Rica.
Source
Pensis. VII Edición (abril/junio, 2017)
Resource type
Narrative text
Intended users
General public
Educational level
Level::University
Keyword
Innovación, Empresas, Financiamiento, Ingeniería, Pequeña y mediana empresa, Negocios.
Structure
Atomic
This structure corresponds to individual objects. For example, images, charts and figures.
Aggregation Level
1
The lowest level of aggregation. For example, multimedia or fragments.
Interactivity Type
Expositive
Cognitive Process
Describe, Explain.
Show more info
The following license files are associated with this item: