La aventura de emprender en Costa Rica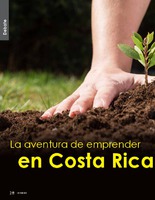 Date
2017
Author
Oficina de Comunicación y Mercadeo
Educational Resource
Abstract
El artículo abarca el tema del gran desafío de emprender y la cantidad limitada de incubadoras que hay en el país. Por otro lado, se menciona los problemas que se dan para financiar los emprendimientos.
The article covers the great challenge of undertaking and the limited number of incubators in the country. On the other hand, it mentions the problems that are given to finance the enterprises.
Source
Pensis. VII Edición (abril/junio, 2017)
Resource type
Narrative text
Intended users
General public
Educational level
Level::University
Keyword
Empresas, Retos, Mercado financiero, Pequeña y mediana empresa.
Structure
Atomic
This structure corresponds to individual objects. For example, images, charts and figures.
Aggregation Level
1
The lowest level of aggregation. For example, multimedia or fragments.
Interactivity Type
Expositive
Cognitive Process
Contextualize, Describe, Explain.
Show more info
The following license files are associated with this item: