Con los tacos bien puestos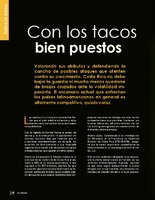 Installation remarks
Descargar el PDF y abrir con cualquier programa en cualquier sistema operativo. También se puede acceder al artículo en la web. Browser: Cualquiera. Browser plugin: Adobe Flash Player.
Date
2017
Author
Oficina de Comunicación y Mercadeo, Instituto Tecnológico de Costa Rica
Publisher
Garita-Granados, Carla, Quesada-Araya, Jorge, Garro-Ureña, Rony.
Editor
Mesén-Cepeda, Ma. Martha
Graphical designer
Chacón-Quesada,Kristel, Valverde-Vega, Natalia, San Martín, Fernando.
Technical validator
Garro-Sánchez, Daniel
Educational Resource
Abstract
Este artículo se basa en una metáfora, al comparar el gran esfuerzo que ha realizado Costa Rica para generar una mayor competividad, con el fútbol. Se dice que Costa Rica ha tenido que redoblar esfuerzos y estrategias para innovar y competir en el mercado mundial, ya que, Estados Unidos es el principal socio comercial del país y con la llegada de Donald Trump al poder, se ha generado gran incertidumbre.
This article is based on a metaphor, comparing the great effort that Costa Rica has made to generate greater competitiveness, with football. It is said that Costa Rica has had to redouble its efforts and strategies to innovate and compete in the world market, since the United States is the main trading partner of the country and with the arrival of Donald Trump to power, great uncertainty has been generated
Source
Pensis VIII Edición (julio/septiembre, 2017)
Resource type
Narrative text, Hypertext.
Intended users
Learner, General public, Individual, Group.
Educational level
, , , , .
Subject
Subject::Science::General
Keyword
PROCOMER, Competitividad, Exportación, Mercado internacional, Capital humano.
Structure
Atomic
This structure corresponds to individual objects. For example, images, charts and figures.
Aggregation Level
2
Level 2 is a collection of level 1 objects (multimedia or fragments). For example a lesson.
Interactivity Type
Expositive
Context
Classroom, Real environment, Home, Teacher, Tutor, Family, Schoolmate, Face to face, Blended, Distance.
Cognitive Process
Analyse, Understand, Communicate, Contextualize, Describe, Explain.
Show more info
The following license files are associated with this item: