Agricultura sustentable, volver al origen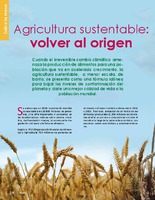 Date
2017
Author
Oficina de Comunicación y Mercadeo, Instituto Tecnológico de Costa Rica
Publisher
Garita-Granados, Carla, Quesada-Araya, Jorge, Garro-Ureña, Rony.
Editor
Mesén-Cepeda, Martha
Graphical designer
Chacón-Quesada, Kristel, Valverde-Vega, Natalia.
Technical validator
Cerdas-Trojo, Marcela
Educational Resource
Abstract
El acelerado crecimiento de poblaciones ha traído grandes consecuencias, por lo tanto, el artículo propone un giro en las políticas gubernamentales y sociales para instruir a la población sobre técnicas que permiten mejor uso del suelo y mejores beneficios tanto al agricultor como el medio ambiente.
The rapid growth of populations has brought great consequences, therefore, the article proposes a turn in government and social policies to educate the population on techniques that allow better use of the soil and better benefits for both the farmer and the environment.
Source
Pensis. IX Edición (octubre/diciembre), 2017
Resource type
Narrative text, Hypertext.
Intended users
General public
Educational level
Level::University
Subject
, Subject::Mathematics::General.
Keyword
Producción agrícola, Contaminación, Sostenibilidad, Población, Cultivos.
Structure
Atomic
This structure corresponds to individual objects. For example, images, charts and figures.
Aggregation Level
2
Level 2 is a collection of level 1 objects (multimedia or fragments). For example a lesson.
Interactivity Type
Expositive
Cognitive Process
Analyse, Understand, Contextualize, Describe.
Is part of
El reto del agro en Latinoamérica
Show more info
The following license files are associated with this item: