El futuro toca a las puertas de la agricultura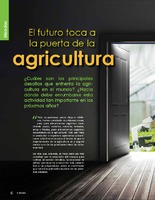 Date
2017
Author
Oficina de Comunicación y Mercadeo, Tecnológico de Costa Rica
Publisher
Garita-Granados, Carla, Garro-Ureña, Rony, Quesada-Araya, Jorge.
Editor
Mesén-Cepeda, Martha
Graphical designer
Chacón-Quesada, Kristel, Valverde-Vega, Natalia.
Educational Resource
Abstract
El artículo aporta una pequeña descripción acerca de los retos y desafíos de la agricultura en el futuro.
The article provides a brief description of the challenges that agriculture will face in the future.
Source
Pensis. IX Edición (octubre/diciembre), 2017
Resource type
Narrative text, Hypertext.
Intended users
General public
Educational level
Level::University
Subject
Subject::Science::General
Keyword
Producción agrícola, Alimentación, Cultivos agrícolas, Rendimiento, Retos, Sostenibilidad, Cambio climático.
Structure
Atomic
This structure corresponds to individual objects. For example, images, charts and figures.
Aggregation Level
2
Level 2 is a collection of level 1 objects (multimedia or fragments). For example a lesson.
Interactivity Type
Expositive
Cognitive Process
Analyse, Understand, Contextualize, Describe.
Is part of
El reto del agro en Latonoamérica
Show more info
The following license files are associated with this item: