Granjas verticales, la nueva forma de cultivar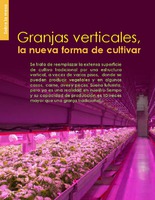 Date
2017
Author
Oficina de Comunicación y Mercadeo, Tecnológico de Costa Rica
Publisher
Garro-Ureña, Rony, Garita-Granados, Carla, Quesada-Araya, Jorge.
Editor
Mesén-Cepeda, Martha
Graphical designer
Valverde-Vega, Natalia, Chacón-Quesada, Kristel.
Technical validator
Cerdas-Trojo, Marcela
Educational Resource
Abstract
EL artículo muestra una innovadora manera de reemplazar la extensa superficie de cultivo tradicional por una estructura vertical, a veces de varios pisos, donde se pueden producir vegetales y en algunos casos, carne, aves y peces. Suena futurista, pero ya es una realidad en nuestro tiempo y su capacidad de producción es 10 veces mayor que una granja tradicional.
The article shows an innovative way to replace the extensive traditional cultivation area with a vertical structure, sometimes with several floors, where vegetables, and in some cases, meat, poultry and fish can be produced. It sounds futuristic, but it is already a reality in our time and its production capacity is 10 times greater than a traditional farm.
Source
Pensis. IX Edición (octubre/diciembre), 2017
Resource type
Narrative text, Hypertext.
Intended users
General public
Educational level
Level::University
Subject
Subject::Science::General, Subject::Science::Biology.
Keyword
Cultivos, Agricultura, Producción vertical, Producción, Alimentación.
Structure
Atomic
This structure corresponds to individual objects. For example, images, charts and figures.
Aggregation Level
2
Level 2 is a collection of level 1 objects (multimedia or fragments). For example a lesson.
Interactivity Type
Expositive
Cognitive Process
Describe, Explain.
Is part of
El reto del agro en Latinoamérica
Show more info
The following license files are associated with this item: