Una radiografía: de nuestros cultivos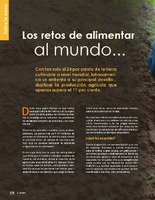 Date
2017
Author
Oficina de Comunicación y Mercadeo, Tecnológico de Costa Rica
Publisher
Garita-Granados, Carla, Garro-Ureña, Rony, Quesada-Araya, Jorge.
Editor
Mesén-Cepeda, Martha
Graphical designer
Chacón-Quesada, Kristel, Valverde-Vega, Natalia.
Technical validator
Cerdas-Trojo, Marcela
Educational Resource
Abstract
El artículo describe los cambios que ha sufrido la agricultura en Costa Rica y su representación en el producto interno bruto.
The article describes the changes that agriculture has suffered in Costa Rica and its representation in the gross domestic product.
Source
Pensis. IX Edición (octubre/diciembre), 2017
Resource type
Narrative text, Hypertext.
Intended users
General public
Educational level
Level::University
Subject
Subject::Science::General
Keyword
Agricultura, Producto interno bruto, Cosechas, Producción, Sostenibilidad, Planificación.
Structure
Atomic
This structure corresponds to individual objects. For example, images, charts and figures.
Aggregation Level
2
Level 2 is a collection of level 1 objects (multimedia or fragments). For example a lesson.
Interactivity Type
Expositive
Cognitive Process
Describe, Explain.
Is part of
El reto del agro en Latinoamérica
Show more info
The following license files are associated with this item: