Cuando se convierten los árboles en energía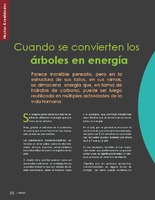 Installation remarks
Descargar el PDF y abrir con cualquier programa en cualquier sistema operativo. También se puede acceder al artículo en la web. Operating system: Ninguno. Browser: Cualquiera. Browser plugin: Adobe reader.
Date
2018
Author
TEC, Oficina de Comunicación y Mercado
Educational Resource
Abstract
Parece increíble pensarlo, pero en la estructura de sus tallos, en sus ramas, se almacena energía que, en forma de hidratos de carbono, puede ser luego reutilizada en múltiples actividades de la vida humana.
It seems incredible to think about it, but in the structure of its stems, in its branches, energy is stored which, in the form of carbohydrates, can then be reused in multiple activities of human life.
Source
Pensis. X Edición (enero/marzo), 2018
Resource type
Narrative text, Hypertext.
Intended users
General public
Educational level
Level::University
Keyword
Hidratos de carbono, Dendroenergía, Biomasa, Bosque, Energía renovable.
Structure
Atomic
This structure corresponds to individual objects. For example, images, charts and figures.
Aggregation Level
2
Level 2 is a collection of level 1 objects (multimedia or fragments). For example a lesson.
Interactivity Type
Expositive
Cognitive Process
Describe, Explain.
Is part of
Pensis, X Edición
Show more info
The following license files are associated with this item: