Ese nuevo vector de desarrollo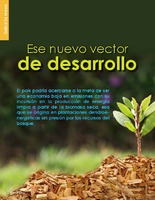 Installation remarks
Descargar el PDF y abrir con cualquier programa en cualquier sistema operativo. También se puede acceder al artículo en la web. Operating system: Ninguno. Browser: Cualquiera. Browser plugin: Adobe reader.
Date
2018
Author
TEC, Oficina de Comunicación y Mercado
Educational Resource
Abstract
El país podría acercarse a la meta de ser una economía baja en emisiones con su incursión en la producción de energía limpia a partir de la biomasa seca, esa que se origina en plantaciones dendroenergéticas sin presión por los recursos del bosque.
The country could approach the goal of being a low-emission economy with its incursion in the production of clean energy from dry biomass, that which originates in wood-energy plantations without pressure for forest resources.
Source
Pensis. X Edición (enero/marzo), 2018
Resource type
Narrative text, Hypertext.
Intended users
General public
Educational level
Level::University
Keyword
Dendroenergía, Biomasa, Energía, Recursos forestales, Sostenibilidad, Carbono neutral.
Structure
Atomic
This structure corresponds to individual objects. For example, images, charts and figures.
Aggregation Level
2
Level 2 is a collection of level 1 objects (multimedia or fragments). For example a lesson.
Interactivity Type
Expositive
Cognitive Process
Understand, Describe, Explain.
Is part of
Pensis, X Edición
Show more info
The following license files are associated with this item: