Poderosos instrumentos de desarrollo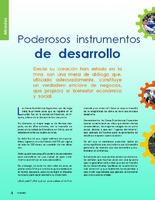 Installation remarks
Descargar el PDF y abrir con cualquier programa en cualquier sistema operativo. También se puede acceder al artículo en la web. Operating system: Ninguno. Browser: Cualquiera. Browser plugin: Adobe reader.
Date
2018
Author
TEC, Oficina de Comunicación y Mercado
Educational Resource
Abstract
Una visión integral que permita integrar todos los elementos de desarrollo, como piezas centrales y necesarias dentro de todo ese engranaje que son las Zonas Económicas Especiales.
A comprehensive vision that allows integrating all the development elements, like pieces central and necessary within all that gear that are the Special Economic Zones.
Source
Pensis. XI Edición (abril/junio), 2018
Resource type
Narrative text, Hypertext.
Intended users
General public
Educational level
Level::University
Keyword
Desarrollo, Producto interno bruto, Crecimiento, Economía, Inversiones, Zonas francas.
Structure
Atomic
This structure corresponds to individual objects. For example, images, charts and figures.
Aggregation Level
1
The lowest level of aggregation. For example, multimedia or fragments.
Interactivity Type
Expositive
Cognitive Process
Describe, Explain.
Is part of
Pensis, XI Edición
Show more info
The following license files are associated with this item: