Plan de restauración ecológica en la finca La Lucha, San Cristóbal de Desamparados, San José Costa Rica.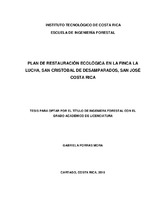 Date
2018
Author
Porras-Mora, Gabriela
Abstract
The present work emphasizes on the importance of ecological restoration, which becomes the fundamental tool to achieve a balance between natural and human resources, the purpose of the recovery of an ecosystem, both in its composition, structure and functionality. The main objective is to elaborate an ecological restoration plan and for this there are four sectors in La Finca La Lucha in San Cristóbal de Desamparados, which have been affected by the Nate storm. The restoration plan was made through the study of two ecosystems; the ecosystem to restore and the reference ecosystem, in which for the first one a topography and soil study has been done and for the reference one its flora has been studied. The methodology applied corresponds to the proposal of the Ecological Restoration Group (GREUNAL). Three plantation designs were elaborated with their respective budget.
Description
Tesis de Graduación (Licenciatura en Ingeniería Forestal) Instituto Tecnológico de Costa Rica, Escuela de Ingeniería Forestal, 2018.
Collections