Modelo de Gestión Energética para los Sistemas de Aires Acondicionado del Campus Tecnológico Central Cartago del Instituto Tecnológico de Costa Rica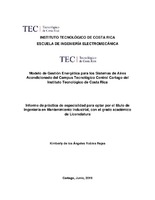 Date
2019
Author
Robles-Rojas, Kimberly de los Ángeles
Abstract
La ausencia de una gestión energética de los sistemas de aire acondicionado del campus Instituto Tecnológico de Costa Rica, sede central, genera un incumplimiento legal en materia ambiental y energética, ocasionando que estos equipos sean los responsables del 40 % de la facturación total del consumo energético del campus. Se realizó un levantamiento técnico de los sistemas de aire acondicionado instalados en el campus, así como una inspección visual de las unidades. Posteriormente, se establece una línea base, con un análisis estadístico técnico, de vida útil y eficiencia energética, y hallazgos de las condiciones de operaciones y gestión de mantenimiento. Además, se realiza un inventario de los gases de efecto invernadero generados por estos sistemas. A partir de la situación energética de estos sistemas, se plantea un Modelo de Gestión Energética, que incluye una política energética para la gestión, compra y sustitución de sistemas de aire acondicionado; un análisis de criticidad de los equipos, a nivel energético e impacto ambiental; planes de acción que permitirán reducir un 10 % del consumo energético y un 15 % las emisiones de CO2 eq, para el 2021. Por último, se elabora una comparación, desde una perspectiva ambiental, energética y financiera, entre sistemas de aire acondicionado con refrigerante convencional y sistemas con refrigerante natural.
The absence of energy management for the air conditioning systems of the Cartago Technological Campus generates a legal breach in environmental and energy matters; that is why this equipment is responsible for the 40 % of the total billing of the campus' energy consumption. To develop this project, a technical survey of the air conditioning systems installed on the campus was carried out as well as a visual inspection of the units. Subsequently, a baseline is established, with a technical statistical analysis, useful life and energy efficiency; in addition to findings of the operational conditions and maintenance management; an inventory of the greenhouse gases generated by these systems was implemented as well. Based on the energy situation of these systems, an Energy Management Model is proposed that includes an energy policy for the management, purchase and replacement of air conditioning systems, a criticality analysis of the equipment, energy level and environmental impact, action plans that will reduce 10% of energy consumption and a 15% decrease in equivalent CO2 emissions, by 2021. Finally, an environmental and economic comparison is developed between air conditioning systems that use conventional refrigerants and those that use natural refrigerant.
Description
Informe de Práctica de Especialidad (Licenciatura en Mantenimiento Industrial) Instituto Tecnológico de Costa Rica, Escuela de Ingeniería Electromecánica, 2019.
Collections