Propuesta de mejoras para el departamento de mantenimiento de la planta de producción de empaques flexibles del Grupo Ecoplast S.A.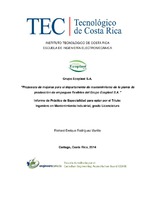 Date
2014
Author
Rodríguez-Murillo, Richard Enrique
Abstract
In this work an assessment of maintenance department was done by COVENIN 2500-93, to determinate the current status of the maintenance organization. This standard consist in an evaluation manual of the important points related with the maintenance organization. An analysis of the evaluation was made to find improvements opportunities. Also, a proposal of a basic model of maintenance was made according with the capabilities and size of the company, this model is based in a preventive maintenance of the critical production equipment in order to avoid unscheduled stops. A proposal was made with maintenance activities for production equipment, selected by a critical analysis, the activities are the base to continue with the implementation of preventive maintenance. The main administrative documents are designed to keep track of the maintenance work. Moreover, these documents are accompanied by the respective flow diagrams for use in the operational environment of the plant. Finally, a database system was created in Microsoft Access in order to do and adequate management of replacements parts, material and supplies. This system can record the check in and check out, automatically updating the inventory stock. Besides, the system can display information about the used articles. The interface was created with Microsoft Access forms, so the user can be manipulate easily.
Description
Proyecto de Graduación (Licenciatura en Ingeniería en Mantenimiento Industrial). Instituto Tecnológico de Costa Rica. Escuela de Ingeniería Electromecánica, 2014.
Collections