Entendiendo el cambio climático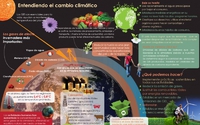 Installation remarks
Browser: Cualquiera. Browser plugin: .
Date
2015
Author
Oficina de Comunicación y Mercadeo, Instituto Tecnológico de Costa Rica
Publisher
Garita-Granados, Carla, Quesada-Araya, Jorge, Garro-Ureña, Rony.
Editor
Mesén-Cepeda, Ma. Martha
Graphical designer
Chacón-Quesada, Kristel, Robles-Cruz, Tracy.
Technical implementer
Sequeira-Oreamuno, Daniel, Rosales-Purizaca, Carlos A., Herranz-Berzosa, Carmen.
Technical validator
Garro-Sánchez, Daniel
Educational Resource
Abstract
Este artículo hace una explicación del efecto invernadero, como funciona, por qué se presenta y cuales son esos elementos que le conforman. Para realizar dicha explicación, se hace uso de un diagrama donde queda muy claro el ciclo de los gases del efecto invernadero y cuales son esas medidas de mitigación para reducir el impacto del mismo.
This article makes an explanation of the greenhouse effect, how it works, why it is presented and what are those elements that make it up. To make this explanation, the author created a diagram where the cycle of greenhouse gases is shown in a clear way, also mitigation measures to reduce the impact of the same pollutants are explained.
Source
Pensis. I Edición (enero / marzo, 2015)
Resource type
Illustration
Intended users
General public
Educational level
Level::II Cycle, Level::III Cycle, Level::Diversified Education, Level:: Technical Education, Level::High School Diploma, Level::University.
Subject
Subject::Science::General
Keyword
Gases, Efecto invernadero, Atmósfera, Medio ambiente, Huella de carbono.
Structure
Atomic
This structure corresponds to individual objects. For example, images, charts and figures.
Aggregation Level
1
The lowest level of aggregation. For example, multimedia or fragments.
Interactivity Type
Expositive
Cognitive Process
Analyse, Understand, Contextualize, Describe, Explain, Connect.
Show more info
The following license files are associated with this item: