¿Cómo se evalúa la seguridad de los alimentos genéticamente modificados?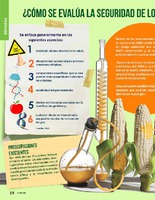 Date
2015
Author
Oficina de Mercadeo y Comunicación
Educational Resource
Abstract
La presente infografía enfoca aspectos tales como la toxicidad, alergenicidad, componentes específicos, efectos nutricionales, preocupaciones existentes y la organización intergubernamental encargados en desarrollar estándares y códigos de los alimentos genéticamente modificados.
This infographic focuses on aspects such as toxicity, allergenicity, specific components, nutritional effects, existing concerns and the intergovernmental organization charged with developing standards and codes for genetically modified foods.
Source
Pensis. IV Edición (octubre/dicienbre, 2015)
Intended users
Learner, Tutor, General public, Education expert, Individual, Subject matter expert, Group, Teacher.
Keyword
Seguridad alimentaria, Toxicidad, Genes, Alergias, Efectos.
Structure
Atomic
This structure corresponds to individual objects. For example, images, charts and figures.
Aggregation Level
1
The lowest level of aggregation. For example, multimedia or fragments.
Interactivity Type
Expositive
Context
Classroom, Real environment, Home, Teacher, Tutor, Family, Distance.
Cognitive Process
Decide, Explain.
Show more info
The following license files are associated with this item: