A Recommender System for Learning Objects on a Learning Management System: Implementation Experience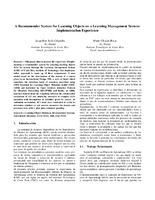 Fecha
2016
Autor
Solís-Céspedes, Jacqueline
Chacón-Rivas, Mario
Resumen
This paper aims to present the experience of implementing a recommender system for selecting learning objects (LO) for lessons through the Learning Management System (LMS) of Costa Rica Institute of Technology. Our implementation approach is made up of three components: A user model based on the descriptions of the lessons of a course given in an Instructional Design (ID), a serie of items which constitute the metadata bank of resources described using IEEE Standard for Learning Object Metadata model (IEEELOM) and harvested by Open Archives Initiative Protocol for Metadata Harvesting (OAI-PMH) and finally, an utility function derived from the weighting between the collaborative assessment of LO and similarity measures to compare LO's metadata with descriptions of activities given for course. Asvalidation mechanism, ID's tests were conducted in order to determine whether or not recover resources for lessons and precision tests with a pilot plan remained pending.
Descripción
© © 2016 IEEE. Personal use of this material is permitted. Permission from IEEE must be obtained for all other uses, in any current or future media, including reprinting/republishing this material for advertising or promotional purposes, creating new collective works, for resale or redistribution to servers or lists, or reuse of any copyrighted component of this work in other works.
Fuente
J. Solís-Céspedes and M. Chacón-Rivas, "A recommender system for learning objects on a learning management system: Implementation experience," 2016 XI Latin American Conference on Learning Objects and Technology (LACLO), San Carlos, 2016, pp. 1-11.
Ítems relacionados
Mostrando ítems relacionados por Título, autor o palabras clave.
Alpizar-Chacón, Isaac

;

Chacón-Rivas, Mario

(

LACLO 2016

,

2016

)

There are a large number of educational resources available on the Internet through different repositories. However, authenticity methods of learning objects has not been widely adopted by repositories, making it difficult ...

Vega-Alvarado, Jose

;

Francesa-Alfaro, Agustín

;

Chacón-Rivas, Mario

;

Garita-Rodríguez, César

(

LACLO 2016

,

2016

)

In the teaching and learning process, one of the most widely used assessments under the constructivist model is to work in groups. This has many advantages, but also weaknesses such as lack of collaboration, poor organization, ...

Kalé, Laxmikant

;

Meneses-Rojas, Esteban

(

Kluwer Academic Publishers

,

2015-03

)

The continuous progress in the performance of supercomputers has made possible the understanding of many fundamental problems in science. Simulation, the third scientific pillar, constantly demands more powerful machines ...