Cuando se busca dinamizar la economía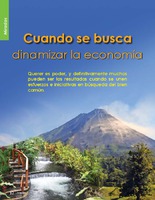 Installation remarks
Descargar el PDF y abrir con cualquier programa en cualquier sistema operativo. También se puede acceder al artículo en la web. Operating system: Ninguno. Browser: Cualquiera. Browser plugin: Adobe reader.
Date
2018
Author
TEC, Oficina de Comunicación y Mercado
Educational Resource
Abstract
El artículo habla sobre el crecimiento ecnómico de San Carlos siendo una zona potencial con la unión de varias instituciones del sector.
The article talks about the economic growth of San Carlos being a potential area with the union of several institutions of the sector.
Source
Pensis. XI Edición (abril/junio), 2018
Resource type
Narrative text, Hypertext.
Intended users
General public
Educational level
Level::University
Keyword
Zonas francas, Economía, Competitividad, Inversiones, Estrategia.
Structure
Atomic
This structure corresponds to individual objects. For example, images, charts and figures.
Aggregation Level
2
Level 2 is a collection of level 1 objects (multimedia or fragments). For example a lesson.
Interactivity Type
Expositive
Cognitive Process
Describe, Explain.
Is part of
Pensis, XI Edición
Show more info
The following license files are associated with this item: